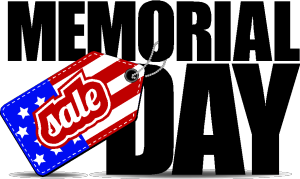 Keeping your home comfortable and up-to-date seems like an expensive endeavor. With trends changing so fast, our wallets can hardly keep up! Lucky for us, Memorial Day is just around the corner. If you shop smart at the sales this holiday you can give your home the facelift you desire.
5 Simple and Affordable Options to Look for Deals on This Holiday:
1. Curtains: For bathrooms, bedrooms, or living rooms, a simple curtain change can do wonders to the look of your room. Memorial Day is great for getting those curtains you have been lusting after for months, on clearance! Look for great deals on trending summer patterns. If you shop early and wisely, you can update multiple rooms in your home by making the one simple change.
2. Couch and Chair Covers: Want to lighten your furniture for summer? Look for great couch covers to change up your look and create a blank canvas for new colors and patterns. Try out upholstery changes in your dining room by purchasing chair covers with patterns and colors similar to upholstery changes you might be considering.
3. Throw Pillows and Blankets: Experiment with new colors and patterns without breaking your budget or making big changes to your home using pillows and throws. Find new styles to mix and match this summer and let them marinate in your home a couple months before you make more permanent renovations.
4. Duvet Covers: Give your boudoir multiple personalities to match your different moods! You will keep your wallet in check by giving yourself simple ways to switch it up without making large purchases.
5. Rugs: Rugs come in varying sizes, shapes and prices but you don't have to make a large investment to get something classic, classy and fun. Summer rugs are usually lightweight canvas, jute, and sisal. These materials add a fresh, airiness to your home that is great for warmer months. Shop rug sales over the next few weeks and grab yourself a second option to use until winter!
Great Stores for Home Decor Deals:
Online and Off
TIP: Many of these stores offer their best deals on site instead of online. This being the case, we remind you of a typical sales tip. GO EARLY! Most of these shops are located in or near malls; you might only be shopping decor but everyone and their mother is shopping for something. Be sure to get in early to get what you want!
Online Only Shopping
TIP: Many stores/brands also have an Amazon or Wayfair presence in addition to their brick and mortar location or even their own website. Since consumers expect to find deals at these locations, sometimes it is best to find what you want online then search for it again at a place like Amazon—pricing is not always different, but when every dollar counts, it is worth the extra Googling.
Plus! Do not forget to check in with your local boutiques. They might be small but they love to get you a good deal too! Big stores seem to have better sales, but a truly unique home comes form that special piece that only you have.
TIP: Check in with your favorite boutiques early and make sure you know when their sales start. Small shops do not carry as much inventory as chain stores and they tend to start their sales a couple days (or weekends) early to keep up with the competition.
Our Gift to You! Here are some links to promo codes and coupons for upcoming sales!
Compliments of Virtual Results