The Houston real estate market in October 2023 continued to navigate challenges due to the highest mortgage rates seen in two decades, leading consumers predominantly towards rentals. Despite this, the market showed some positive signs as the year's final quarter commenced. Norhill's Key Insights from the Houston Association of Realtors (HAR) September 2023 Market Update: Single-Family Home Sales: A decrease of 3.4% in sales was noted compared to October 2022, marking the 19th consecutive month of decline. However, this represents the lowest monthly rate of decline for the year, with 6,377 units sold. Compared to pre-pandemic October 2019, sales were down by 11.3%. Townhouse/Condominium Sales and Pricing: These properties experienced a 16.4% decline in sales, with the average price increasing by 1.2% to $272,597 and the median price rising by 6.6% to $239,900. Home Pricing: The average price of single-family homes saw a slight increase of 0.4% to $403,556, while the median price experienced a small decline of 0.9% to $327,000. Despite the slowing market over the past 12 months, home prices are relatively flat year over year.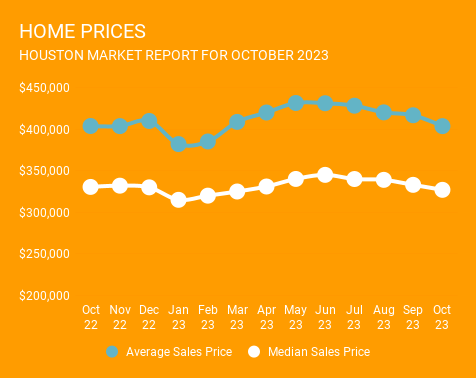 Inventory Levels: October's supply of homes increased to 3.6 months, the highest since November 2019. Housing inventory nationally is at a 3.4-month supply, according to the latest report from the National Association of Realtors (NAR). A 4.0- to 6.0-month supply is generally regarded as representing a "balanced market" in which neither buyer nor seller has an advantage.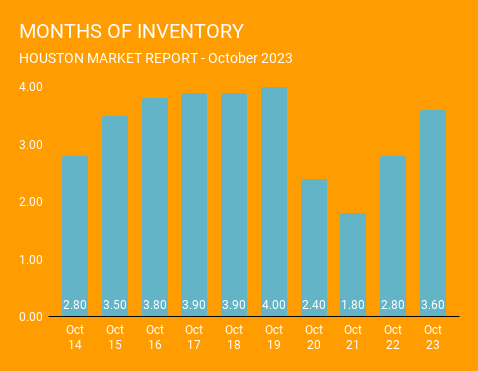 Likely to Sell: According to HAR, total active listings, or the total number of available properties, increased 12.5 percent to 40,630. October sales of all property types totaled 7,825 down 4.3 percent compared to October 2022. As a result, the absorption rate, which is a measure of any given home's likelihood to sell, for October 2023 was 19 percent. As we've seen throughout the year, Absorption rates have fallen back to levels we saw prior to the pandemic.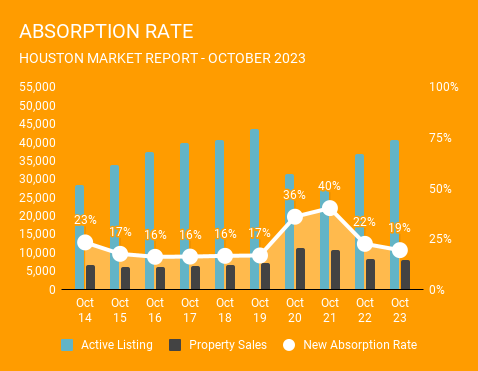 Days on Market: Homes have been taking about 42 to 48  days on average to sell over the past 4 to 5 months.  For October, Days on Market was 47 days, which is slightly up from last month.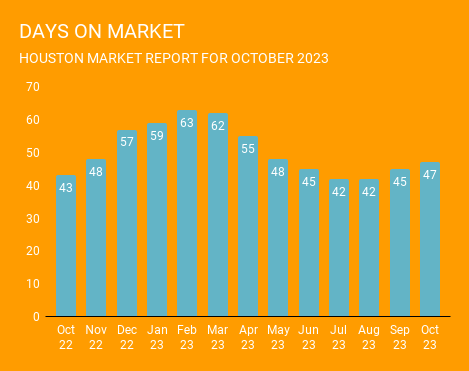 Recent weeks have brought encouraging developments in the mortgage market, with rates gradually approaching the 7% mark. This decline has come as a result of waning concerns about inflation. If current trends continue and expert predictions hold true, we might find rates dipping into the 6% range by Spring 2024. If the economic climate remains strong, rates falling below 7% could significantly benefit potential homebuyers. This shift is likely to stimulate increased buyer interest and potentially boost home prices. Connecting with a local realtor can provide valuable insights tailored to your needs and contacting one of Norhill's amazing Realtors is a good place to start. They can guide you through the market trends in your desired neighborhoods and advise on the best times to buy or sell. Fill out the form to get started.

GET MATCHED WITH AN AGENT
Norhill Realty and the MLS does not verify the information provided and disclaims any responsibility for its accuracy. All data is preliminary and subject to change. Twelve-month totals may vary from actual end-of-year figures, due to individual changes to MLS records. This data is for informational purposes only and should not be the sole piece of data used in the evaluation of a buy or sell decision. Consult with one of our Realtors to evaluate any particular property so you can determine how the market relates to that property.