The Houston real estate market is still down year over year, but steady. As we've seen the last few months, it's nowhere near as crazy as it was during the pandemic. However, home sales look much better when compared to pre-pandemic levels, and home prices are still climbing in many neighborhoods. This is good news for homeowners, who are finding that they can still get a good price for their properties. It's even better news for potential buyers, who have a wider variety of homes to choose from in many neighborhoods, and a little extra time to think about it.

According to the latest report from the Houston Association of Realtors (HAR), single-family home sales are down 18.4 percent year-over-year with 7,310 units sold compared to 8,955 in April 2022. When compared to April of 2019, when sales volume totaled 7,673 units, sales were down more modestly to just 4.7 percent.

April 2023 home prices dropped year over year when compared to April 2022. The average price dipped 1.3 percent to $419,929 while the median price fell 3.6 percent to $331,000. That is in sharp contrast to the record high prices of $438,327 (average) in May 2022 and $353,995 (median) in June 2022.
According to HAR, total active listings, or the total number of available properties, increased 56.2 percent to 33,203. April sales of all property types totaled 8,912 down 20.7 percent compared to April 2022.  As a result, the absorption rate for April 2023 was 27 percent. When compared to Aprils over the past 10 years, home buyers are still gobbling up a good portion of available homes.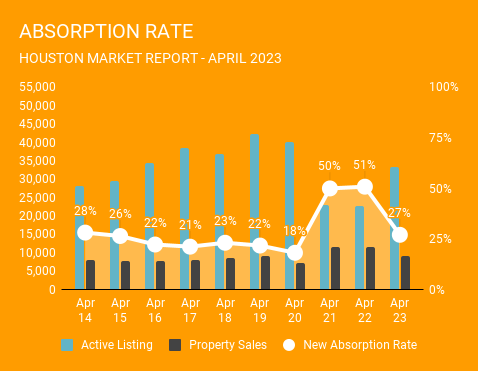 Compared to last month, listings moved a little more quickly for home sellers. The Days on Market (DOM), or the number of days it took the average home to sell, fell to 55 days in April, down from 62 days in March.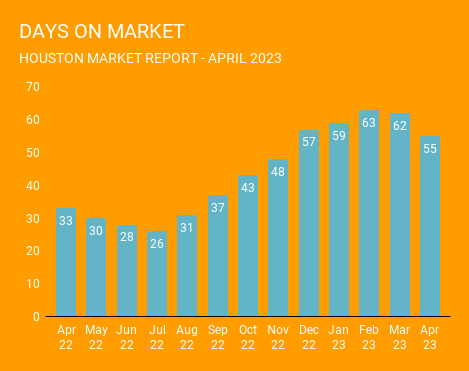 Inventory levels rose again in March, reaching a 2.7-months supply, which is exactly where we were in March. Housing inventory nationally stands at a 2.6-months supply, according to the latest report from the National Association of Realtors (NAR). A 4.0- to 6.0-months supply is widely regarded as a "balanced market" in which neither the buyer nor the seller has an advantage.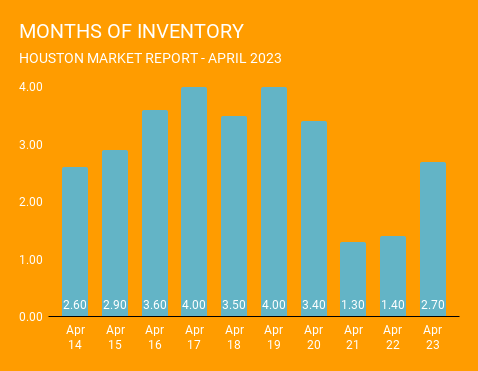 Lately, mortgage rates have been holding steady, which is good news for homebuyers. And we can tell you, the most sought after neighborhoods are still buzzing with activity.  Houses are selling quickly and some lucky sellers are even getting multiple offers. All in all, it's been a pretty steady Spring market in Houston.

Whether the market is booming or slow, be prepared. Make sure you have the information you need to make an informed decision on when to start house hunting or listing your home. Contacting a Norhill Realtor is a good place to start. Get connected with one of our experienced agents who can talk you through the market in the neighborhoods you care about as well as discuss the timing for either selling or buying.

GET MATCHED WITH AN AGENT
Norhill Realty and the MLS does not verify the information provided and disclaims any responsibility for its accuracy. All data is preliminary and subject to change. Twelve-month totals may vary from actual end-of-year figures, due to individual changes to MLS records. This data is for informational purposes only and should not be the sole piece of data used in the evaluation of a buy or sell decision. Consult with one of our Realtors to evaluate any particular property so you can determine how the market relates to that property.