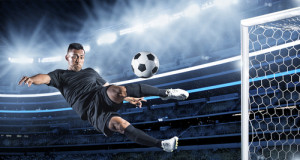 Scorrrrrrrre!!!!!!
Celebrate a World Cup of Your Own
You may not make it to the FIFA World Cup this year in Brazil, but you can still score big by improving your FICO or Vantage credit score.
There's no way around it, if you want to buy a home with a mortgage, you'll get a better rate with a higher credit score. Unfortunately, your credit score takes into account several years of your past financial decisions and missteps in addition to your current situation. While there is no easy "fix" to your credit score, practicing these five suggestions can help you move it in the right direction.
Keep Paid-Off Debt on Your Report
While negative debt on your report is bad, paid-off debt is a positive contributor to your credit score. Most of your negative debt falls off after seven years, but keeping positive debt in place can help. If you've paid off that line of credit, keep it open (just don't use it) and when you switch to a different credit card because it has a lower interest rate, keep the old one (again, just don't use it) so that your "available credit" is higher.
Revolving Credit
Your score reflects how much credit you have versus how much you are using at any given time. The lower the credit usage to credit available, the higher your score. To increase your credit available, pay down your balances. Even if you pay your entire balance off every month, you may appear to have a higher usage to available ratio. Since it is your statement balance that many card issuers report to the credit bureaus, consider paying ahead of the statement date.
Small Balances on Several Cards
When you have several cards in use at once, even if they have small balances, your score reflects the number of credit accounts in addition to the total balance. Pay off the small balances. Use your lowest interest-rate card for most of your purchases.
Avoid Unnecessary Credit Report Dings
When you apply for credit, it may cause a slight dip in your credit. When shopping for the best rate, you may apply for several loans in a short amount of time. According to Bankrate, the FICO scoring system ignores multiple requests for the same type of loan, treating them as one request within a scoring timeframe (typically 30 to 45 days), but with other systems you have only 14 days. In very old systems, student loans in particular may not appear as one request, so avoid applying for student loans when also applying for a mortgage. The Vantage Score model uses a rolling 14-day window for duplicate loan inquiries, so shorten up your shopping time accordingly.
Nuisance Bills
When trying to pull together a down payment for a big-ticket item (car, home, etc.), take care to pay smaller bills that can hurt you later. For example, that library fine or leftover medical bill that ended up in collection and remains unpaid can hurt either your FICO or your Vantage Score, but if you've paid them, your Vantage Score does not factor them into your score.
Credit scores move up slowly over time. Start working to improve your credit score immediately so that when you're ready to shop for that home loan, you'll already have a great credit score.
Compliments of Virtual Results